MAPR 2023 will be held at FLC Luxury Hotel Quy Nhon, Binh Dinh Province Vietnam
Quy Nhon is a coastal city in Binh Dinh Province (the Central Vietnam) with nice and humble local people as well as its famous sceneries such as Ghenh Rang, Bai Trung Beach, Trung Luong Beach (where Queen Nam Phuong once bathed), Han Mac Tu mausoleum – a well-known poet's name since the early twentieth century, and many other places.
FLC Luxury Hotel Quy Nhon
Located on a private pristine beach, FLC Luxury Hotel Quy Nhon offers spacious and elegant accommodations in Quy Nhon. Featuring free WiFi access, the hotel features an outdoor swimming pool, sun terrace, on-site dining options and bars. The property also has a children's playground and spa center.
Capturing an beautiful atmosphere in a stunning beachfront setting, all units feature a private balcony or terrace that opens up to panoramic views of Cat Tien beach, Nhon Ly fishing village and Eo Gio. Each air-conditioned unit has a seating area with sofa and flat-screen TV for your entertainment. Private bathroom is fitted with shower facilities and free toiletries. Bathrobes and slippers are provided for your convenience.
Operating a 24-hour front desk, the property features Nurture Spa where guests can sweat it out in the sauna room, have a dip in hot tub or relax with a professional massage. A range of recreational activities in the surroundings include golfing, snorkeling and playing tennis. Water sports facilities and bike hire are available.
All-day dining Terrace Bay restaurant serves many options from Asian and Western delicacies. Furnished with a chic setting, Colada Lounge and Ocean Pool offer many choices of beverages and snack. Guests can experienced an array of imported wines, spirits and cigars at Wine & Cigar Bar.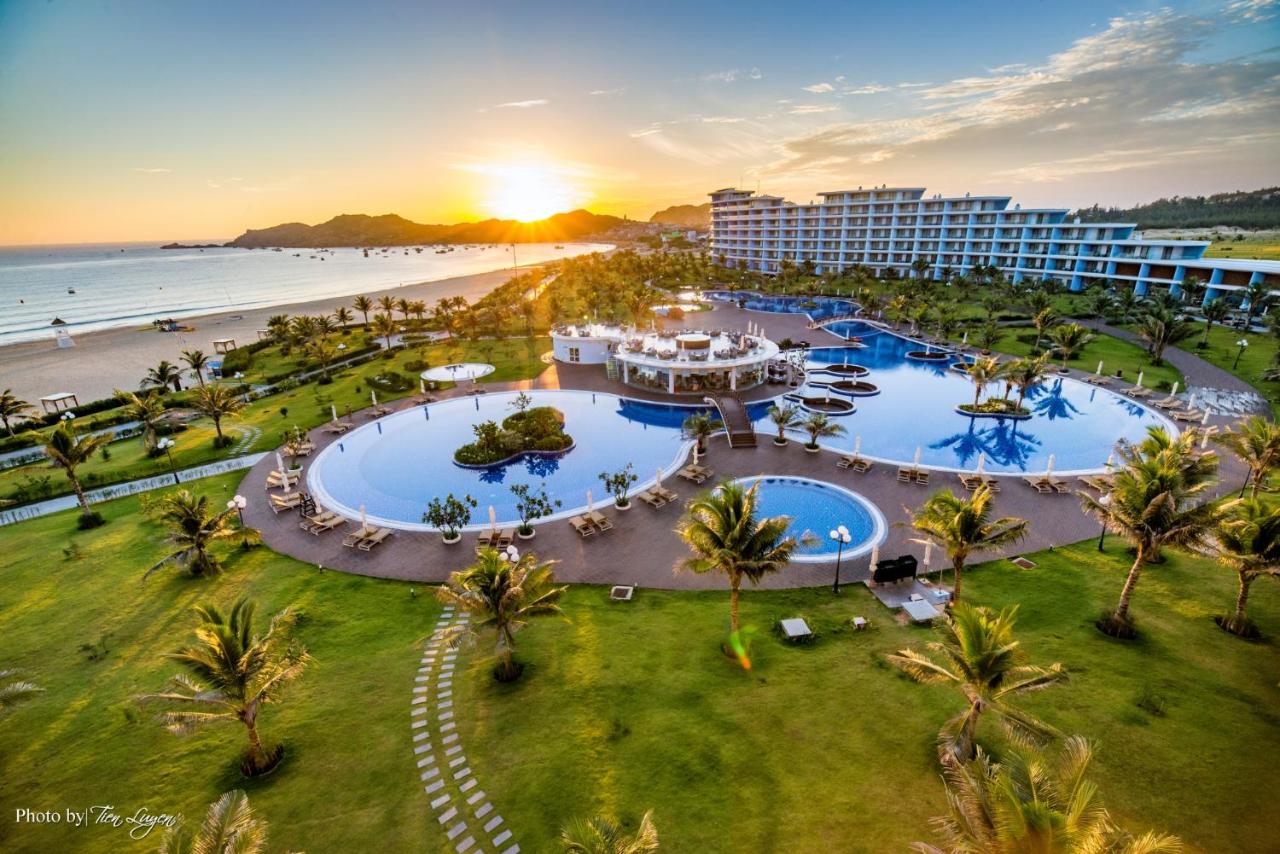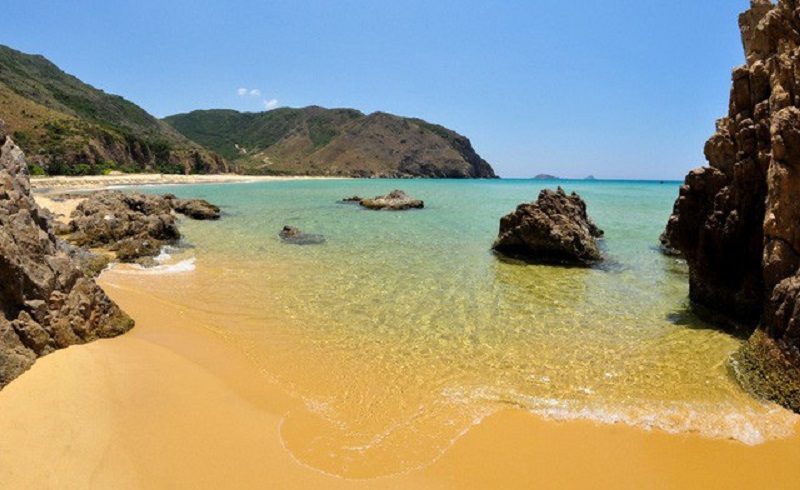 Walking Around Quy Nhon
The bay also provides for the livelihood of many as witnessed by fishermen bringing their catch, women cleaning and selling the product of their work, and patrons enjoying some of the freshest and tastiest seafood in restaurants.
Located at the foot of Phuong Mai Mountain. Ky Co beach is fast becoming one of the best choices for visitors. Ky Co has a memorable mix in the different colors of seawater as you approach the beach. From the dark blue of the offshore water, to ocean blue and finally pure jade green.
Visitors should try rowing basket boats, diving, fishing on canoes and exploring the life of fishermen. Also, you should enjoy typical local foods such as grilled abalone, and steamed crab or squid which are served by friendly local people. Exploring Ky Co beach and surrounding areas are a must for any visitor.
This is a small coastal town, you can go on walk around the center of Quy Nhon or the nearest beach. It is great because you do not have to care about any vehicles. If you plan some trips of a day, it's best to have a bicycle (if you want to exercise) or a motorbike (if you want to go further). Many bungalows and hotels in Quy Nhon provide free of charge bicycles, so ask about this when you check in. You should also ask the hotel staff for a reliable motorbike rental site to get a good vehicle at a reasonable rate (about VND 100,000 to VND 120,000 per day).
For long trips and cost is not your big issue (comfort is a priority), you can hire a driver to take you to the outskirts of Quy Nhon. Also, hotel's people can help you find a reliable person and at a good rate.
Things To Do
Quy Nhon has many things to explore. Whether you are about to relax on the beach or to go out and explore, there are many ways to keep you busy here.
It cake tower and Champa twin-towers : Destination Quy Nhon in Binh Dinh – a province in Vietnam has the most number of relics of the Champa era. Champa are local residents settled in many places throughout Vietnam and Cambodia. They used Quy Nhon as a port from the 11th to 15th century. Do not be surprised by an impressive Twin Towers (named Twin Towers) in the heart of the city. So as to get to another historic site, you should hire a motorbike and go to the countryside to find the It Cake Tower, another Champa tower lies on a hill. It is just a 15-minute drive from the city and you will be delighted with it. The trip will take you through the lush green rice fields, winding small rivers, and finally towards to the tower located on small hills. Climbing up to visit and get a broader view of the coast, fields and behind hills.
The sand hills : It is about 20km from Quy Nhon city, located at Phuong Mai peninsula and Nhon Ly beach. In addition to be a lonely and quiet place, they also bring to you an intersting change of landscape. The large sand dunes adjoining to Nhon Ly beach are not only stunning but also a great place to try surfing. Local people will provide the necessary equipment if you want to try the feeling of sliding down the sand dunes. If not, you can climb the dunes and sit to view the coast and the nearby hills.
Beaches : Quy Nhon is famous for its beautiful beaches running along the eastern edge of the town. The endless soft strips of sand are very quiet and attractive making it the perfect place to relax and sunbathe. You will find several bars and restaurants on the beach, so if you need a cold beer or fast food, come here now.
A local fishing village : As you drive from the city to Champa Tower or Phuong Mai Peninsula, stop at one of the fishing villages you drive through. There are many villages along the coast and it's a great opportunity to see the fishermen's life. Depending on the time of day you go there, you can only see women and children in the town while all the men are at the sea, or you will witness them catching back and preparing fish for sale or dinner.